Mr Sharma, a former ambassador to Israel, brushed aside questions about whether he would be given a cabinet position.
«I'll be concentrating my time over the next weeks, months and years to being a good local representative,» he said on Monday.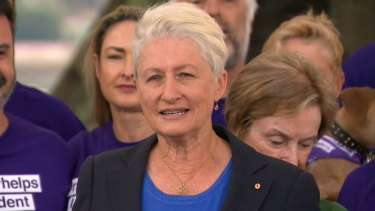 «I'll be helping to protect open spaces and parklands, fight for better local infrastructure and transport, helping preserve the wonderful quality of life we have here in Wentworth.»
Mr Sharma also paid tribute to Mr Turnbull, whom he described as a «good friend». The former prime minister was criticised by colleagues for not helping Mr Sharma campaign in the byelection.
Loading
«Malcolm Turnbull was a very popular and liked local member,» Mr Sharma said.
«Malcolm and [his wife] Lucy have been great supporters and great friends and I wanted to acknowledge publicly Malcolm's years of contribution to public life in Australia.»
Dr Phelps said her loss could be attributed to voters wanting to retain the Morrison government.
«It came down to the wire but I think voters wanted to return a Liberal government and they were opposed to the taxes that Labor was proposing,» Dr Phelps said.
The race for the seat had been neck-and-neck. With 76.8 per cent of the vote counted on Monday, Mr Sharma had 51.67 per cent of the vote on a two-party preferred basis, while Dr Phelps had 48.33 per cent. Mr Sharma was in the lead by 2572 votes.
Dr Phelps said it had been an «enormous privilege to represent the electorate of Wentworth».
She listed the removal of children from Nauru and medical transfers from offshore detentions as her proudest achievements.
«We showed that one voice can make a difference,» Dr Phelps said.
«I knew when I entered the House of Representatives it could be either for seven months or perhaps many years.»
But she said the «sensible centre» would be more important than ever in Australian politics and she was concerned about the «lurch of the Liberals and Nationals to the right».
«I believe there is still a cry for socially progressive politics,» Dr Phelps said.
A source close to Dr Phelps said it was a disappointing result because the Liberals poured money into the seat «while refusing to put their candidate up for any forums or debates».
Dr Phelps said the campaign had been «very trying and difficult», referring to a series of racist and homophobic emails that had circulated around the electorate.
The emails are being investigated by NSW Police's counter-terrorism unit and are believed to have originated from one person. Dr Phelps has said her opponents had nothing to do with the emails.
Alexandra Smith is the State Political Editor of The Sydney Morning Herald.